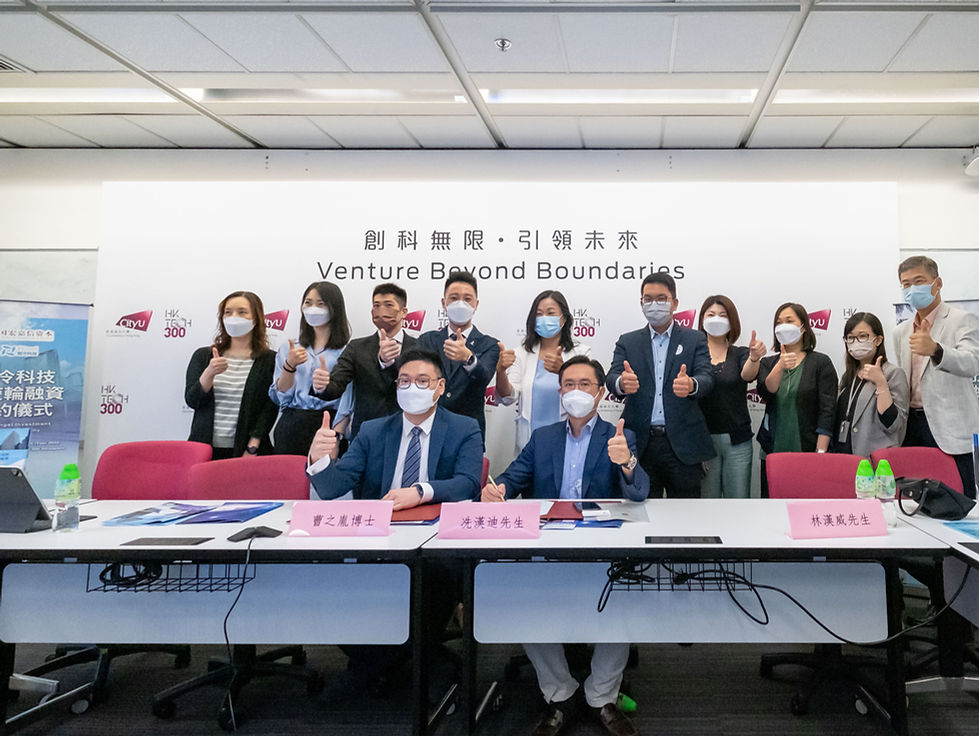 On 10th May 2022, the angel investment signing ceremony between China Prosperity Capital (CPC) and i2Cool Limited was held in HK Tech 300 Hi-tech Business Incubator of City University of Hong Kong. Mr. Shan (front right), the founding partner of CPC, signed an angel investment agreement with Dr. Cao (front left), Assistant Professor of the School of Energy and Environment, City University, and one of the co-founders of i2Cool. Dr. Laura LO (fifth from left, back row), Vice President of the Office of Mainland China Affairs of City University, Mr. Martin ZHU (fourth from left, back row) and Dr. William LEE (third from left, back row), co-founders of i2Cool, and representatives of the Office of the Vice President (Research and Technology) of City University attended the signing ceremony of the angel investment agreement.
i2Cool Limited, a technology start-up incubated by HK Tech 300 of City University of Hong Kong (CityU), has pioneered the development of energy-saving technologies in Hong Kong by combining innovative technology for passive radiation cooling with practical customer needs. The funding and assistance provided by HK Tech 300 enabled i2Cool to grow at an impressive rate within a year. On 10th May, 2022, China Prosperity Capital (CPC) Fund and i2Cool signed a cooperation agreement. CPC Fund and i2Cool will work together to promote the renewable energy transition and build a sustainable future. The CPC Fund's angel investment is believed to propel i2Cool into the global market.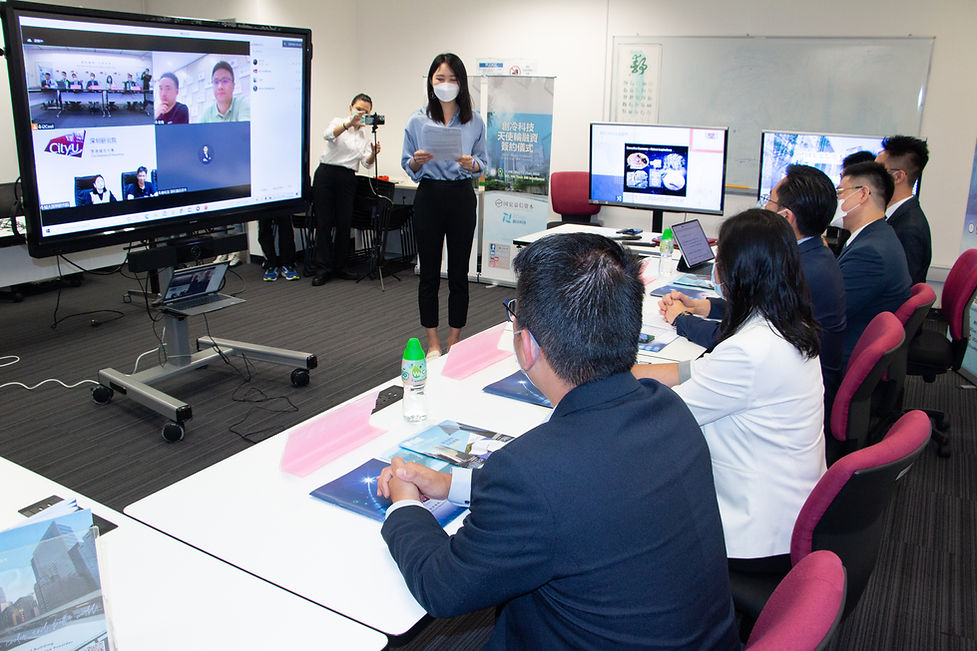 Members of the Shenzhen Municipal Party Committee and Shenzhen College of City University attended the ceremony online.
With a severe energy crisis and climate change, Hong Kong and other countries have announced decarbonisation targets to achieve net zero emissions by 2050. According to the International Energy Agency (IEA), air-conditioning accounts for a fifth of the electricity used in buildings worldwide. In Hong Kong, air conditioning accounts for 30% of total energy consumption in buildings. i2Cool was founded in 2021 to keep up with the global energy transition trend and is committed to advancing passive radiation cooling technology to achieve energy saving. Unlike traditional air-conditioning systems, passive radiation cooling is an energy-free and refrigerant-free cooling technology that reflects incoming solar radiation while emitting thermal radiation to the cold universe, thus achieving sub-environmental cooling. It is worth noting that the research team had spent more than six years working on passive radiation cooling technology before creating i2Cool. From the high cost of laboratory invention, i2Cool has successfully transformed expensive and advanced cooling technology into an affordable product. iPaint is the first product from i2Cool, launched in November 2021.
In addition to the tangible support, i2Cool co-founder and technical advisor Dr. Edwin TSO, as well as the training program, mentorship program and entrepreneurship workshops run by HK Tech 300, provide advice on entrepreneurship and dealing with challenging laws such as tax regulations, financing, sales and marketing, intellectual property, Liability protection, human resources and more.
"Hong Kong could sustain an entire entrepreneurial environment. Government and academic support for innovation and technology have helped i2Cool proliferate. At the same time, other prosperous cities in the Greater Bay Area have provided i2Cool with many consumers for its products and a complete supply chain of entrepreneurs to expand its business "a large scale." Dr. Edwin TSO expressed his vision for the future development of i2Cool. Dr. Cao claimed that by establishing operations in Shenzhen and working with CPC Fund, i2Cool took advantage of opportunities in the Greater Bay Area to expand internationally. He expects that i2Cool would adopt a results-driven strategy and advance its environmental business.
Considering the support for helping start-ups increase their market share, HK Tech 300 is a bridge between i2Cool and potential customers and business partners to successfully commercialise iPaint in the green building materials market. In addition, HK Tech 300 encourages the i2Cool team to participate in numerous start-up competitions. By participating in the competition, i2Cool seized the valuable opportunity to improve product features and optimise the business model. HK Tech 300 is a credit to the rapid and steady growth of the i2Cool business. To date, through constant research and innovation, i2Cool has been able to produce large-scale, lightweight iPaint at a low cost. Accurate data from several Hong Kong work cases show that iPaint when applied to buildings, can reduce the surface temperature of a roof (30⁰C) and the indoor air temperature (5-6⁰C). In calculations, iPaint's striking cooling effect has resulted in more than 30% of energy savings.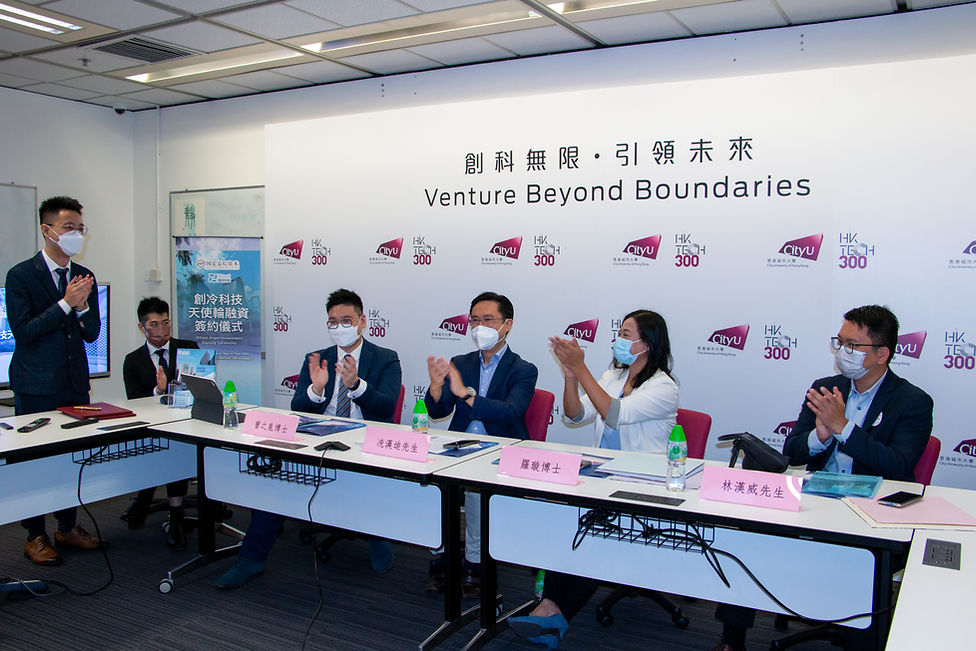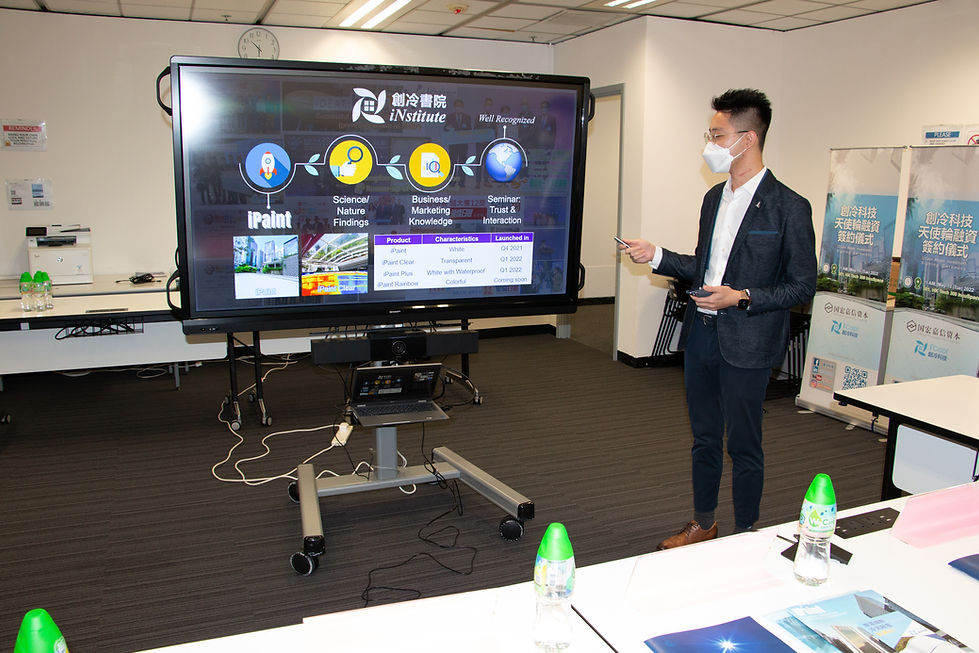 Dr. Martin ZHU introduced the progress and future vision of i2Cool at the ceremony.
According to the latest figures, iPaint has reached 8,450 square feet of a service area in Hong Kong, saving 22,757 kWh of energy and reducing carbon emissions by 13,654 kg. The energy crisis is a global problem. Promoting sustainable energy use and power-saving technologies worldwide is critical to possible solutions. To promote the global energy transition, i2Cool has established two strategic directions: (1) to expand the global market and (2) to develop new and diversified energy-saving products.
So far, in addition to providing iPaint in Hong Kong, i2Cool has already provided iPaint to Canada and reached out to potential customers from mainland China, Singapore, the Middle East, Thailand and other countries. In addition to Asian countries, i2Cool is also targeting European and North American markets with large populations, hot climates, or hot summers to take full advantage of passive radiative cooling technology.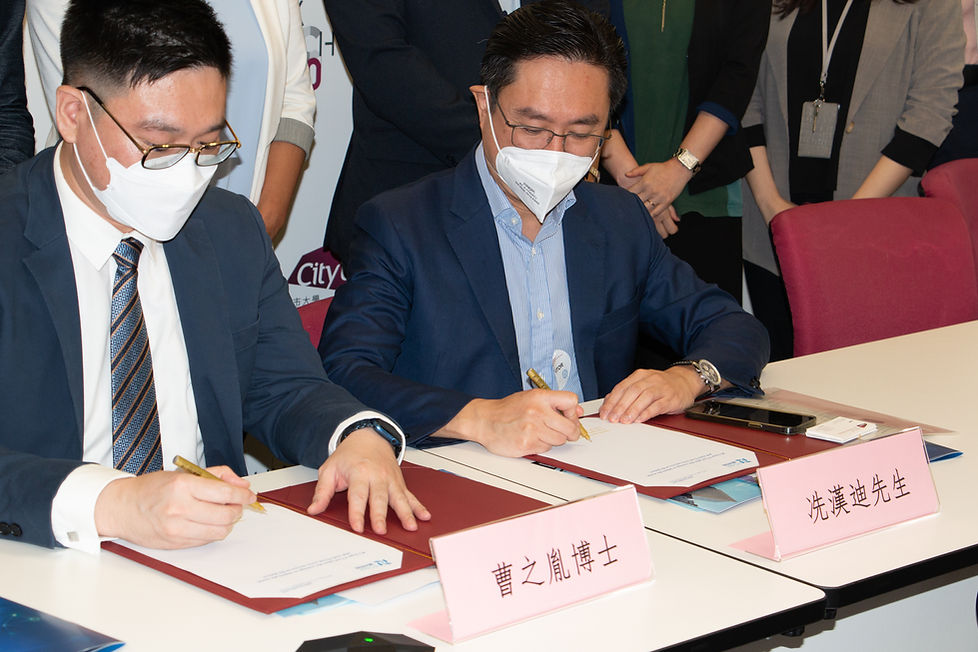 Mr. Hendrick SIN and Dr. Edwin TSO signed up at the ceremony, expressing their best wishes for i2Cool.
New investors are essential for i2Cool to drive business growth and research and development. With the help of the China Prosperity Capital (CPC) Fund, i2Cool's story can be accelerated to catch up with changing industry trends. CPC Fund is a prominent venture capital firm co-founded by Mr. Hendrick SIN, Mr. Ken XIAO and Mr. King MA, dedicated to investing in growth-stage companies in the technology, media and telecommunications sectors to promote national technological progress. Mr. Shan and Mr. Xiao are also the co-founders of China Mobile Games and Entertainment (CMGE) Group Co., LTD., the largest mobile game publisher in China and the first Chinese mobile game company to be listed on an overseas stock exchange. CPC Fund's competent team adheres to the mission of "improving business efficiency and connecting capital markets" and supports numerous start-ups with extensive industry knowledge and business connections.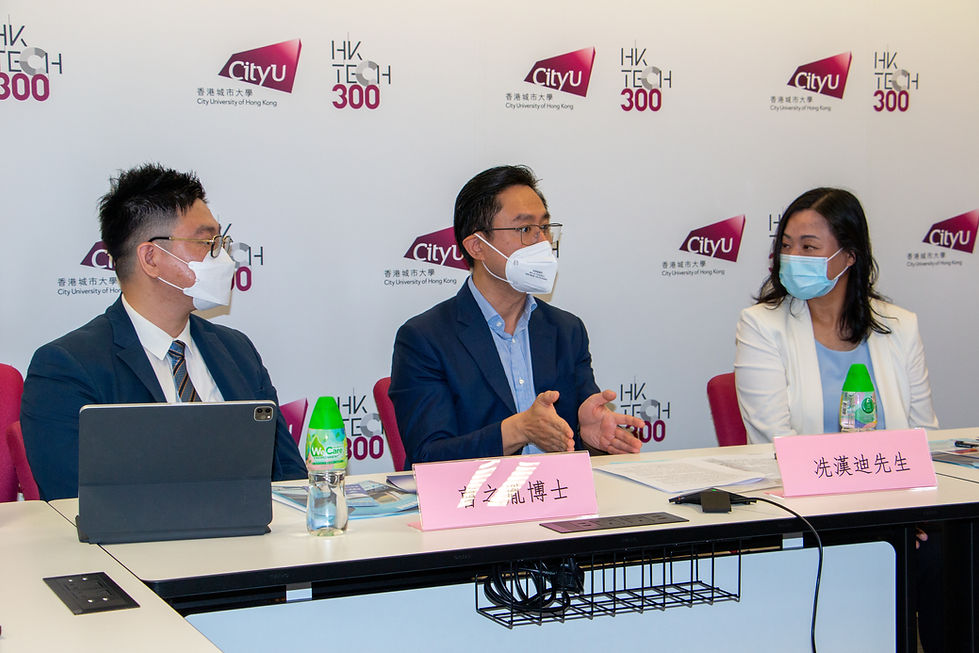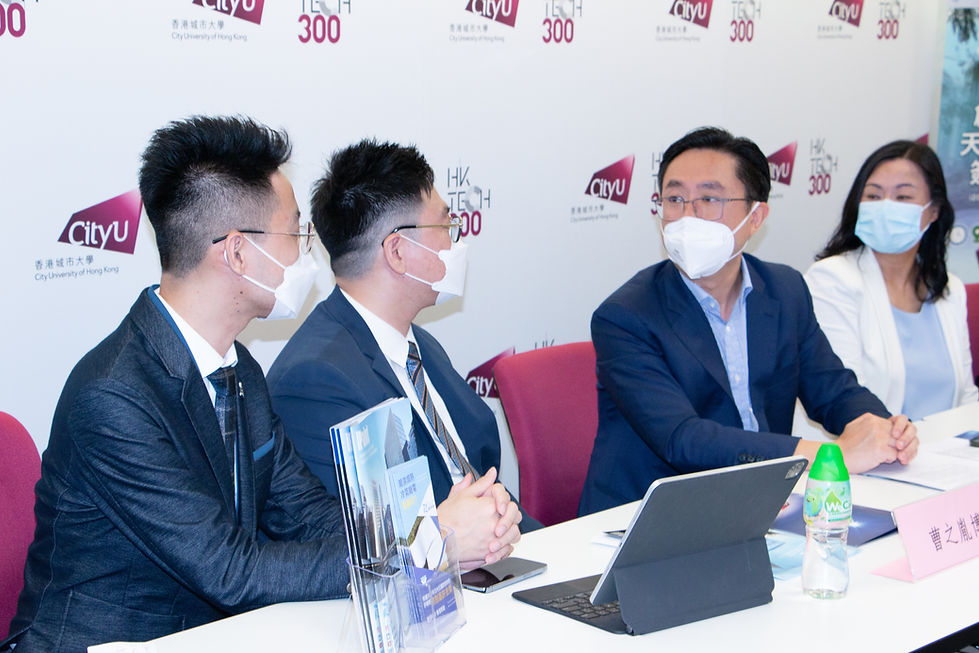 Mr. Hendrick SIN shared the background of the CPC Fund and his professional insights on knowledge transfer and the Greater Bay Area (GBA) start-up ecosystem at the ceremony.
Mr. Hendrick SIN shared his professional experience developing the CPC Fund and encouraging young people to pursue careers in the Greater Bay Area. He expressed enthusiasm. "CPC Fund's initial venture team has 12 years of experience developing innovation and technology. We used to be entrepreneurs, so we understand the difficulties of starting a business. We want to support these potential entrepreneurs to overcome the challenges of entrepreneurship through our wealth of resources, superior business management skills and integrated ability of capital market services." CPC Fund has won many awards, including "Top 100 Venture Capital Institutions in China 2018-2021", "Top 30 Venture Capital Institutions in the Greater Bay Area in 2020", "Top 10 Investment Institutions with the Most Growth Potential in China in 2020", "Top 20 Venture Capital Institutions in China in 2020" and so on.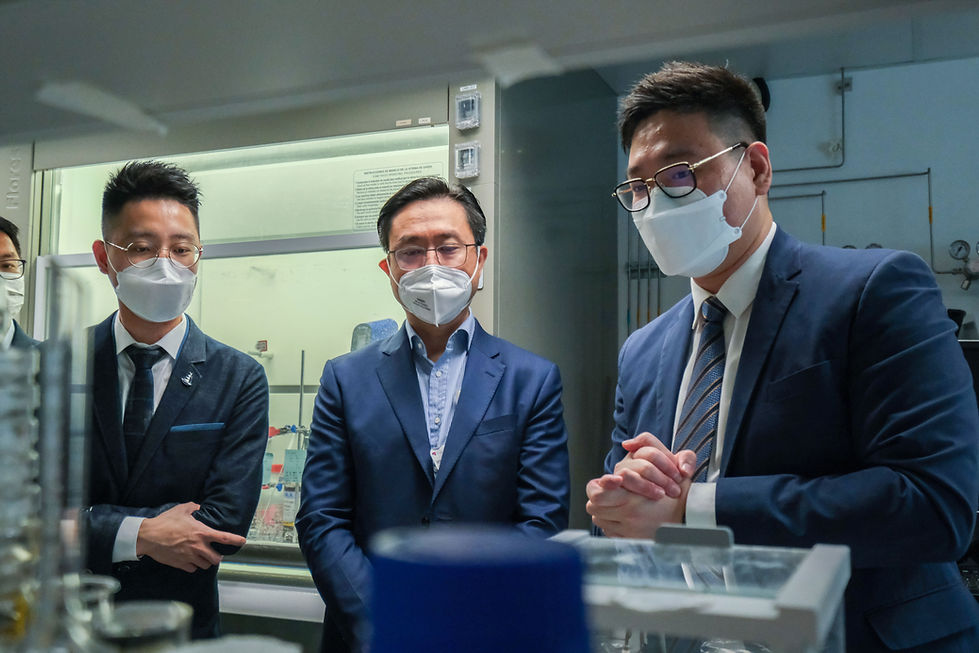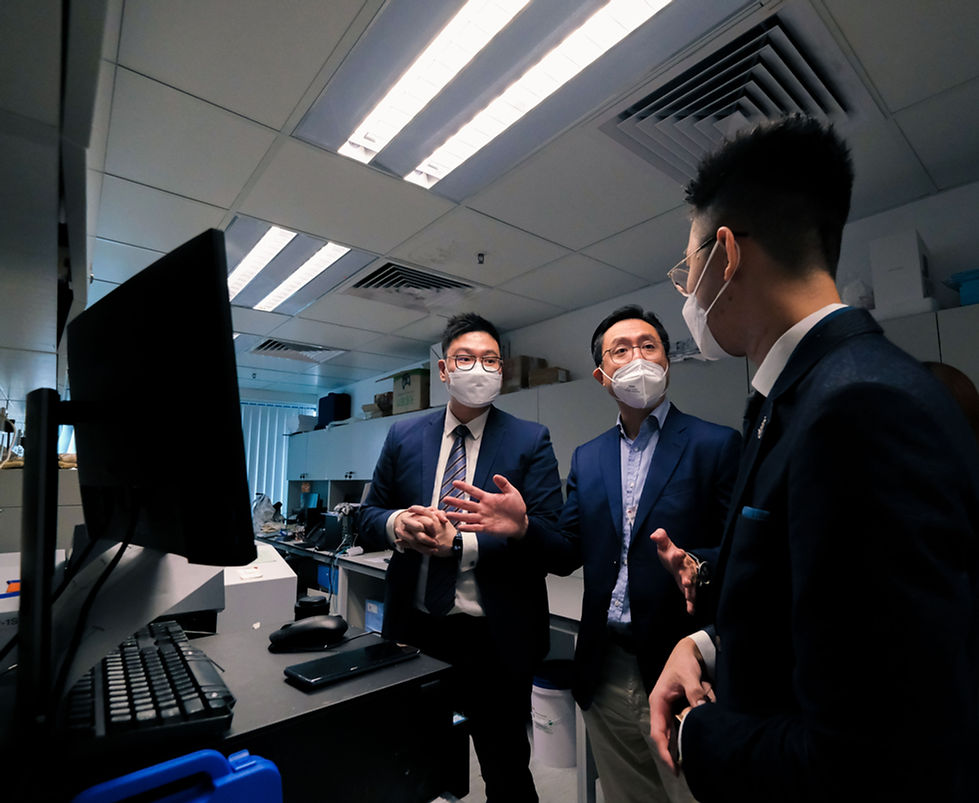 After the ceremony, Mr. Shan and the participants visited the School of Energy and Environment laboratory at City University. Dr. Dewen CAO introduced the laboratory equipment to the visitors.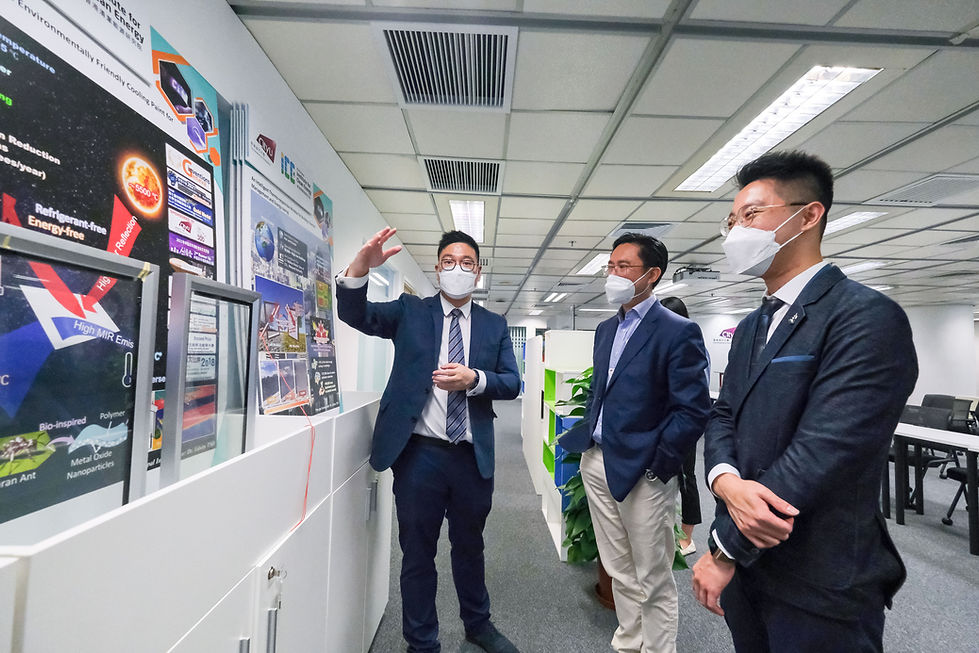 Mr. Shan and the participants visited the Exhibition Hall of Hong Kong Clean Energy Institute Dr. Edwin TSO introduced visitors to the thermochromic smart window technology developed by the research team of i2Cool.
Among the many start-ups backed by the CPC Fund, NIO Capital is a well-known company with great local and global success. NIO Capital is second in the new energy vehicle (NEV) market with its advanced autonomous driving technology and premium in-car entertainment systems. NIO outsells the electric vehicle market by promoting low-carbon lifestyles worldwide, with sales expected to grow 68.9% to $9.58 billion in 2022. As a fast-growing start-up funded by CPC Fund, i2Cool aims to lead the global development of energy-saving technologies soon.
Mr. Hendrick SIN has high expectations for the future development of i2Cool. "CPC Fund has been focused on carbon neutrality, investing in renewable energy, energy storage systems and energy saving technologies. Regarding energy-saving technologies, we are very optimistic about the valuable technology of passive radiation cooling materials and the widespread application of this innovation in the construction industry. As an angel investor closely associated with the bid for the Olympics, like Hong Kong, we will consistently support i2Cool Limited's development. We hope that the i2Cool team in Shenzhen and Hong Kong will be able to promote its self-developed superior technology in China successfully." he said.
In addition to the investment, CPC Fund has also provided comprehensive support to help i2Cool expand its business into China. To improve the capacity of the management team of i2Cool, CPC Fund may give constructive comments and suggestions. In addition, with its extensive business network, CPC Fund provides i2Cool with the latest business trends to fine-tune marketing strategies and product designs to meet the needs of China and the global energy efficiency market. It is estimated that CPC's investment will accelerate the business growth of i2Cool while promoting energy-saving innovation in the Chinese market. At the same time, i2Cool is seeking more investments to nurture a sustainable business with capital and diversified knowledge, enabling the i2Cool team to impact the world with unprecedented and cost-effective passive radiation cooling technology. I2Cool is trying to diversify its products by integrating passive radiation cooling technology into materials with different textures and characteristics. For example, iPaint 2 is a new i2Cool product that inherits the first generation's excellent passive radiant cooling effect and evolves into different colours, allowing customers to choose their own. In addition, iPaint 3 will be launched later by i2Cool with colour-changing and adaptive features, aiming to achieve summer cooling and winter warming, best suited to the weather in northern China and Europe.
In addition to iPaint, i2Cool has developed an intelligent thermal response energy-saving thermochromic smart window to enhance building energy efficiency. Smart Windows will passively regulate incoming solar irradiance to save about 10% of the total energy used for space heating, cooling, and lighting in a building. On the other hand, i2Cool invented a new iTextile with passive radiant cooling to produce energy-efficient daily necessities such as umbrellas, face masks and clothes. In addition to improving outdoor thermal comfort for the public (for example, people can use iTextile-made umbrellas or clothing to reduce body heat in hot and sunny weather), iTextile also benefits outdoor workers by preventing overheating by integrating passive radiative cooling technology into their uniforms.
As a company that advances energy-saving technologies, i2Cool wants to make it easy for everyone to enjoy a sustainable lifestyle. To give back to society, i2Cool is committed to producing various innovative energy-saving products to meet the specific needs of everyone. For example, i2Cool's creative textiles are available to the public, not just industrial or commercial users. Entering an era of energy crisis and climate change, this is a critical moment to lay the foundations for a net-zero world. With access to substantial capital and knowledge resources, i2Cool will work closely with CPC Fund to promote sustainable development and zero carbon emissions by integrating energy-saving innovations into everyday life.